Xishun is a manufacturer and supplier of various plastic materials, including general acrylic sheets, pc, ps materials, etc. As one of the best acrylic sheet brands in China, Xishun not only has years of experience and knowledge about acrylic, but also offers it in different forms. This post serves as an ultimate guide to acrylic, providing all the necessary information for selecting the suitable size, color, and shape. Whether for purchasing or initial research, this page has everything needed to know about acrylic plastic. Without further ado, let's have a look.
What is acrylic plastic?
Acrylic plastic, also known as Plexiglass, is a transparent thermoplastic homopolymer, such versatile synthetic material that has been available for many years. It serves as an impact-resistant alternative to glass, especially when not wanting the high impact strength of polycarbonate. Acrylic is widely used in various industries for several applications such as signage, furniture, picture frames, point-of-purchase displays, aquariums, DIY projects, and more. The popularity of acrylic plastic is evidenced by the global production of 1.71 million metric tons of acrylic fibers in 2020. It comes in different sizes and types, such as acrylic sheets, acrylic pellets and so on.
Functions of acrylic sheets
Acrylic plastic is a versatile material that is used in a wide range of applications due to its unique properties. Here are some of the main functions of acrylic plastic:
1. Transparency: Acrylic sheets are highly transparent, making it an ideal material for applications where clarity is crucial, such as retail displays, museum cases, and picture frames.
2. Impact resistance: Acrylic plastic is much more impact-resistant than glass, making it an excellent choice for applications where safety is a concern, such as aircraft, automobiles, and sports equipment.
3. Weather resistance: Acrylic plastic is highly resistant to weathering, making it an excellent material for outdoor applications such as signage, skylights, and greenhouses.
4. Durability: Acrylic plastic is a highly durable material that can withstand scratching and general wear and tear better than other plastics, such as polycarbonate.
5. Lightweight: Acrylic plastic is up to 50% lighter than glass, making it an ideal material for applications where weight is a concern, such as aircraft and automotive components.
Why choose acrylic plastic instead of glass?
When making the decision between glass and acrylic, it is essential to be aware of the advantages and disadvantages of each material. Glass is fragile, heavy, and can be easily damaged, but it is scratch-resistant and effortless to clean.
One of the significant benefits of using acrylic instead of glass is its 50% lighter weight, while being 10 times more impact-resistant. Unlike glass, acrylic will not shatter under high impact, and if it does break, it fractures into large, dull-edged pieces. This makes it an ideal material for applications where safety is critical, such as shower doors, plexiglass windows, sliding doors, and enclosures for sports fields.
On the other hand, acrylic or plexiglass is a type of flexible, shatter-resistant plastic that is much stronger than glass. Acrylic is more transparent than glass and has excellent weather resistance, making it a more durable option that can withstand a broader temperature range. Although acrylic is typically more expensive than glass, the weight difference and sturdiness make it more cost-effective to ship and transport.
What to look for when investing in acrylic materials?
1. Application: Consider what the acrylic sheet will be used for. Different applications require different types of acrylic sheets, such as ones with specific UV protection, flexibility, or thickness.
2. Size: Measure the size of the area where the acrylic sheet will be used to ensure it is cut to the right size. Many acrylic sheet suppliers can cut sheets to custom sizes.
3. Thickness: The thickness of the acrylic sheet will depend on the application. Thicker sheets will offer more durability and strength, while thinner sheets are more flexible and easier to work with.
4. Color and clarity: Acrylic sheets come in different colors and clarity levels. Decide which color and clarity level best suits the needs of the application.
5. Quality: Choose a high-quality acrylic sheet with no scratches or dents. Poor quality acrylic sheets can be more prone to cracking, discoloration, and damage over time.
6. Supplier: Choose a reputable supplier that offers a warranty or guarantee on their product. A reputable supplier can also offer advice and support in choosing the right acrylic sheet for the application. Xishun is such one, we are glad to be your acrylic sheet supplier.
In short, choosing the right acrylic sheet will depend on the application, size, thickness, color and clarity, quality, and supplier. Taking the time to consider these factors will ensure that the right acrylic sheet is chosen for the job.
Top 5 Acrylic Sheets of 2023
Following is our ultimate list of top-notch selections: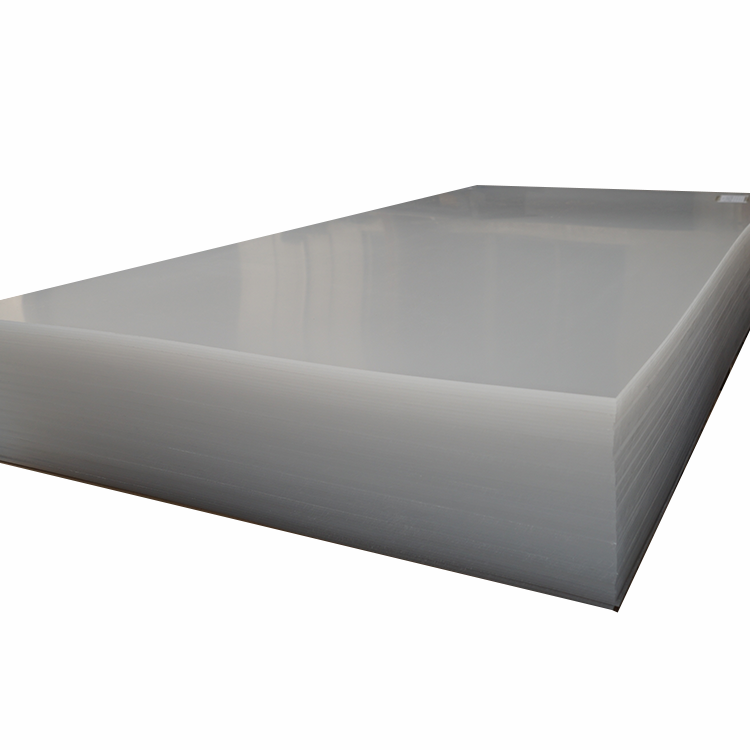 The 1220*2440mm acrylic sheet is rectangular in shape with dimensions of 1220mm by 2440mm, and it has a thickness ranging from 1mm to 50mm. The sheet is typically used as a substitute for glass due to its superior durability, impact resistance, and weather-resistant properties. The surface of the sheet is often smooth and glossy, making it an excellent material for printing and engraving. Its high-quality properties make it a popular choice for a wide range of industries and applications.
Specifications
Features
Non-toxic

Excellent dimensional stability

High impact resistance

Good weather and UV resistance

Lightweight
Pros
Silver Mirror Acrylic Sheets are much lighter than traditional glass mirrors, making them easier to handle and install.
Acrylic sheets have excellent weather resistance and are less likely to deteriorate over time when exposed to sunlight or moisture.
Fluorescent Acrylic Sheet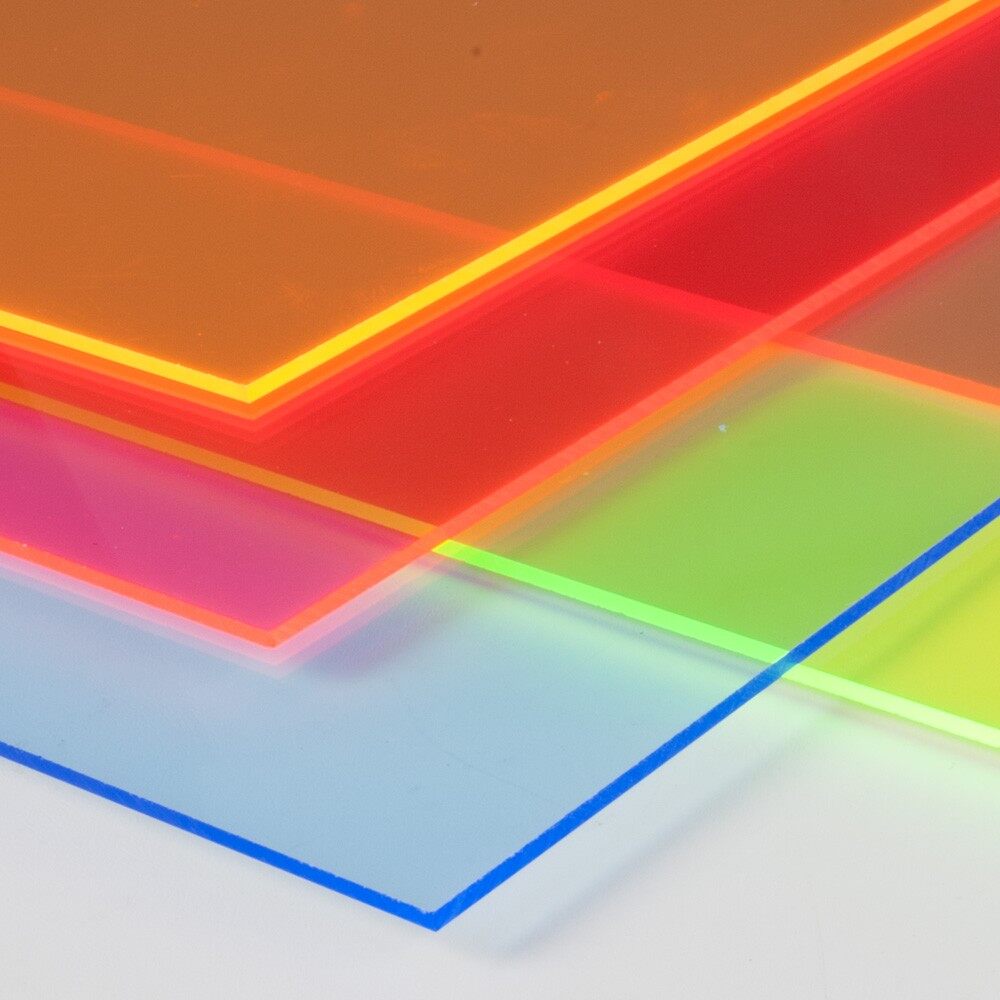 Fluorescent acrylic sheets are clear plastic sheets that are infused with fluorescent pigments or dyes, hence emitting a bright glow under UV light. Due to their fluorescent properties, these sheets are also popular for safety and security applications. It is important to note that these sheets will degrade over time under direct sunlight, hence the need for proper upkeep and maintenance.
Specifications
Features
Pros
Fluorescent acrylic sheets are a cost-effective alternative to other materials such as glass or polycarbonate.
Fluorescent acrylic sheets are easy to cut, drill, and shape, allowing for flexibility in design.
Fluorescent acrylic sheets are lightweight, making them easy to transport, install and customize.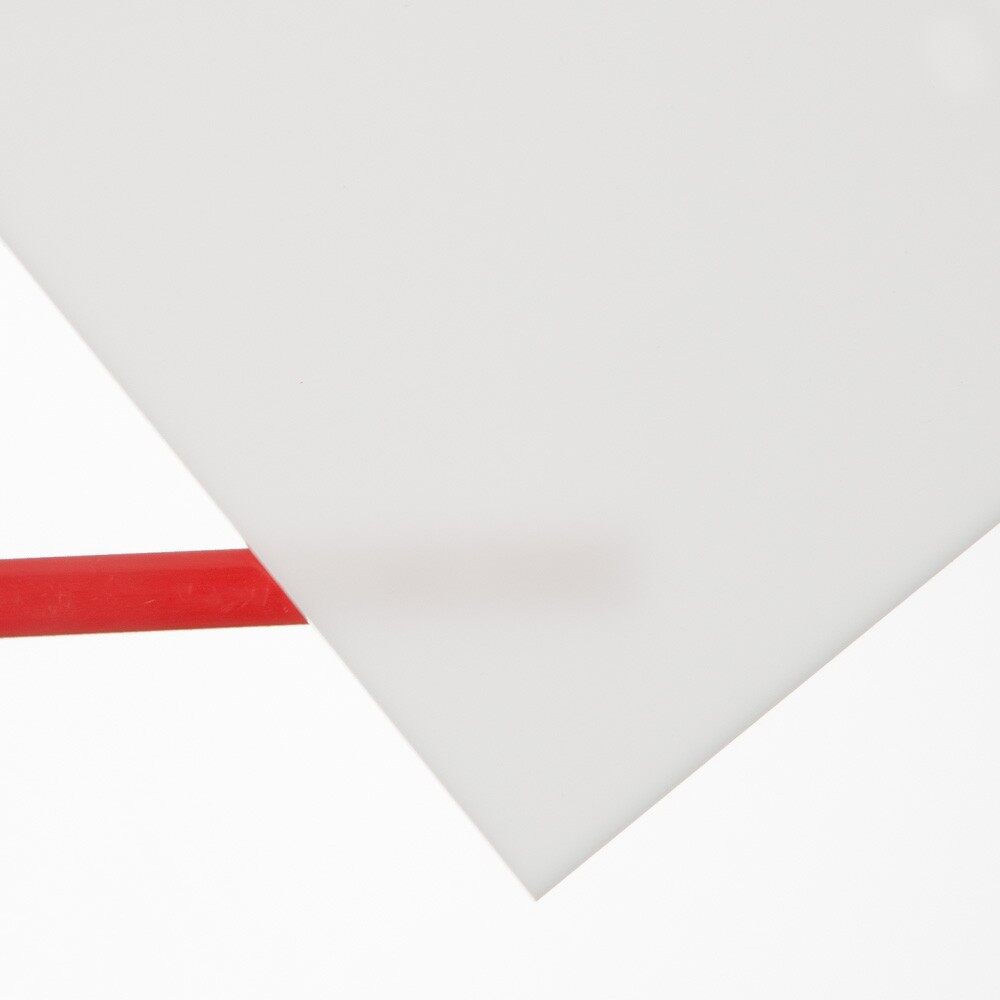 A translucent acrylic sheet is a type of acrylic sheet that allows light to pass through it diffusely, creating a soft and glowing effect. They are also easy to fabricate, allowing designers and architects to create custom-sized panels and shapes to fit their specific needs.
Specifications
Features
Pros
Acrylic sheets are available in a variety of colors, patterns, and textures which make them an ideal choice for showcasing creativity.
Translucent acrylic sheet is resistant to common chemicals, making it an excellent and safe material to use in chemical labs and food processing plants.
Translucent acrylic sheets are easy to clean and maintain which make them a popular choice for high-traffic public areas.
Silver Mirror Acrylic Sheet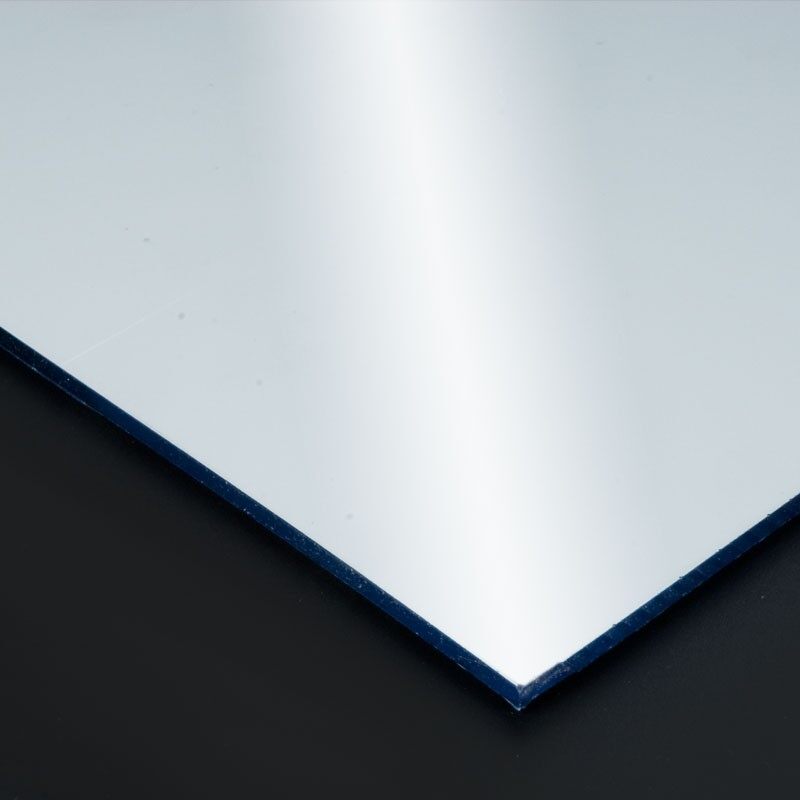 The front of the Silver Mirror Acrylic Sheet has a highly-reflective, mirror-like appearance that provides a similar reflection to a traditional glass mirror. The back of the sheet is tinted to prevent distortion of the reflection and to give the sheet a silver-gray color. The reflective coating is applied using an advanced chemical vapor deposition process, which gives the sheet excellent optical clarity and durability. Because of their durability and lightweight nature, they are a popular choice over traditional glass mirrors in areas where safety is a concern.
Specifications
Features
Pros
Silver Mirror Acrylic Sheets come in a wide range of sizes, thicknesses, and shapes, making them suitable for a variety of applications such as signage, decorative accents, and architectural uses.
Acrylic sheets are easy to cut and shape, allowing for custom designs and specific shapes.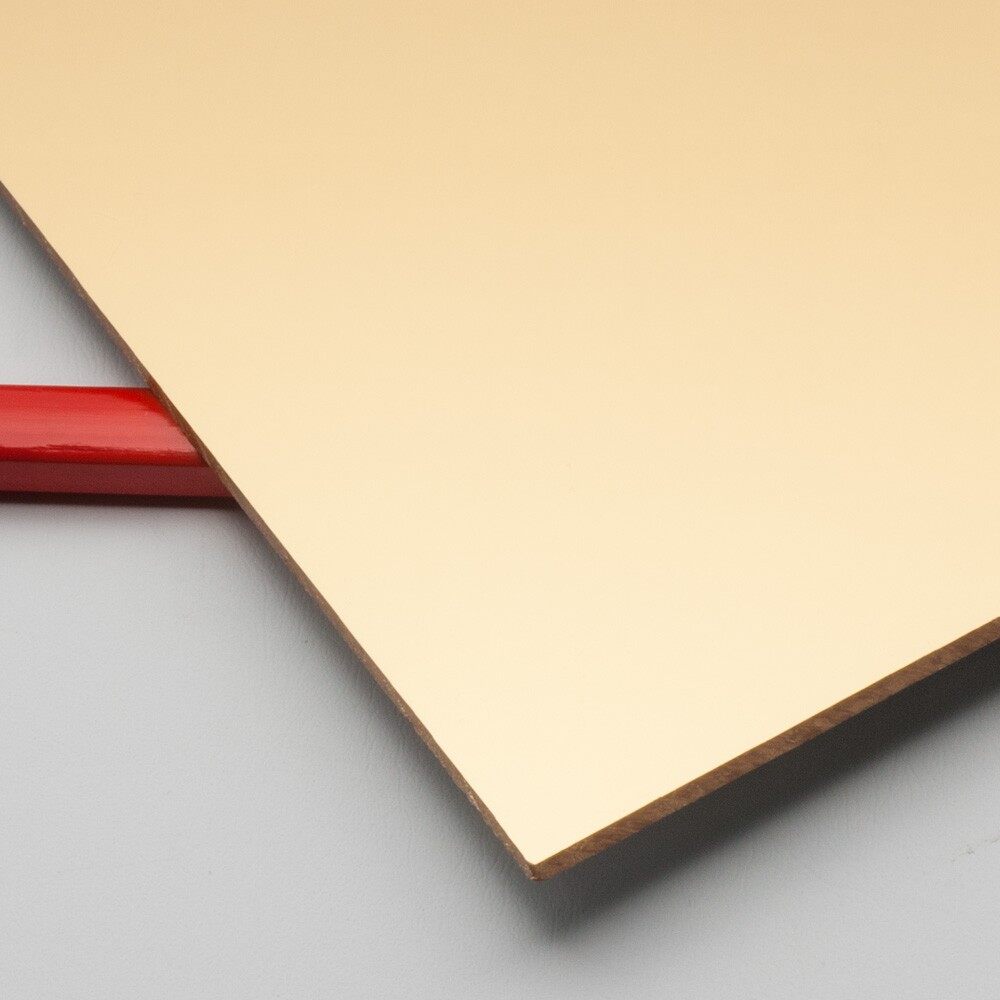 Gold Mirror Acrylic Sheets are popularly used as a substitute for traditional glass mirrors, the gold coating on the acrylic sheet provides a smooth, glossy and highly reflective surface resembling a metallic gold color. This type of mirror sheet is versatile and can be easily cut, shaped, molded, and drilled into the required size to fit a particular application.
Specifications
Features
Pros
Gold mirror acrylic sheets are smooth and easy to clean, providing a perfect mirror reflection that stays clean even with frequent use.
Acrylic sheets are less prone to breakage, and if broken, they do not shatter into small, dangerous pieces like glass.
Get in touch with Xishun Plastics today
Acrylic sheets are versatile materials with endless possibilities. Whether you're looking for durability, flexibility, or transparency, there's an acrylic sheet that will fit your needs perfectly.
If you're unsure which type of acrylic sheet to choose, take a look at our wide selection to find the perfect one for you. Our team of experts is always on hand to help answer any questions you may have and will guide you toward the ideal acrylic sheet for your project.
Additionally, our blog is a great resource for information and inspiration, so be sure to check it out. With so many options to choose from, you can be confident that we have the perfect acrylic sheet to suit you. Now contact Xishun with your demands.