The perfect blend of aesthetic appeal and functionality with marble acrylic sheets. These sheets replicate the classic look of marble while offering the resilience and lightweight nature of acrylic. Ideal for a multitude of applications, from stylish interior decor to contemporary furniture, they provide an accessible alternative to real stone. Their ease of fabrication and maintenance, coupled with a cost-effective price point, make them a go-to choice for designers and architects aiming to infuse spaces with the luxurious allure of marble.
Features of Marble Effect Acrylic Sheet
Marble Effect: Each marble effect acrylic sheet is crafted to mimic the intricate patterns of natural marble, with shimmering hues elegantly dispersed throughout the clear acrylic base.
Symmetrical Aesthetics: The marble pattern acrylic sheet boasts a consistent design, ensuring that both the top and bottom surfaces present a harmonious and uniform marble appearance.
Retro Charm: Drawing inspiration from vintage lucite, the marble acrylic sheets offer a retro vibe combined with contemporary sophistication, perfect for adding character to any space.
Precision Manufacturing: Made with precision in China, these marbled acrylic sheets are the result of meticulous production processes, guaranteeing high-quality and reliable material for various applications.
Design Versatility: Acrylic marble sheets are incredibly adaptable, making them an excellent choice for a multitude of design projects, including interior decorations, architectural features, and custom furniture.
Durable and Lightweight: Marbled acrylic sheet provides the luxurious look of marble while being more durable and significantly lighter, facilitating easier handling and installation for a range of design needs.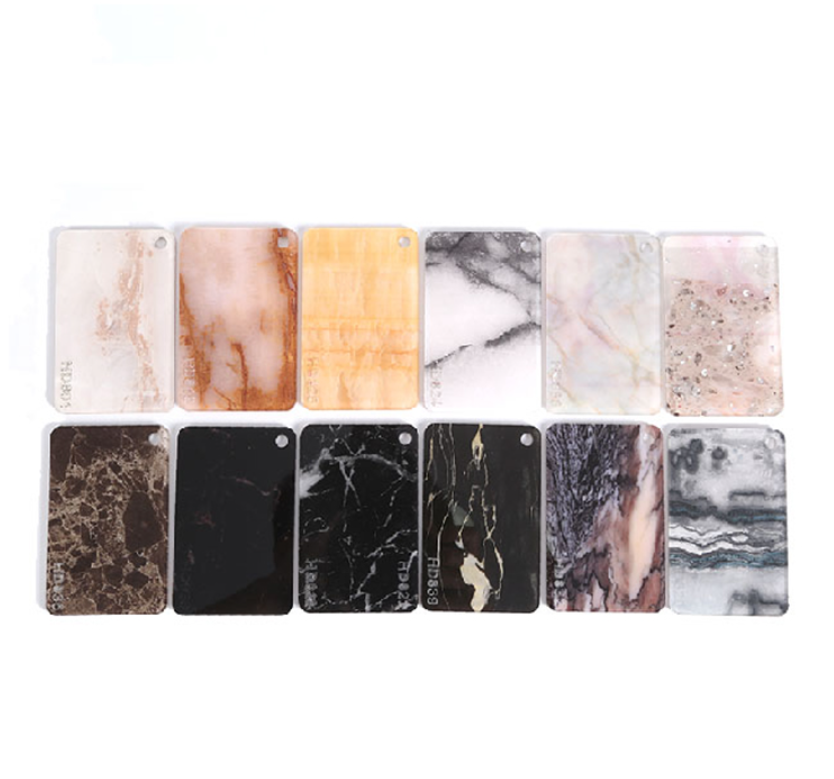 Advantages of Marble Pattern Acrylic Sheet
Aesthetic Appeal: The marble acrylic sheet offers the luxurious look of real marble, adding a touch of elegance to any setting.
Cost-Effective: Marble pattern acrylic sheets provide the sophisticated appearance of marble at a fraction of the cost, making them an economical choice for large-scale projects or applications.
Versatility: The acrylic sheet marble pattern is suitable for a wide range of uses, from interior design elements like backsplashes and wall panels to creative applications in furniture and signage.
Ease of Fabrication: Acrylic marble sheet can be easily cut, shaped, and thermoformed, allowing for custom designs and intricate detailing.
Low Maintenance: Marble effect acrylic sheets require minimal upkeep, as they are resistant to stains and can be cleaned with simple household products.
Consistency: Each acrylic sheet marble is manufactured to have a consistent pattern and color, ensuring uniformity across different batches for large projects.

Xishun: Your Premier Supplier of Acrylic Marble Pattern Sheets
At Xishun, we take pride in being your reliable and quality-driven supplier of acrylic marble pattern sheets. Our commitment extends beyond merely providing products; we offer wholesale options and customization services, ensuring affordability without compromising on quality.
What Sets Us Apart?
Diverse Range of Acrylic Marble Patterns: Our collection boasts an extensive array of exquisite acrylic marble patterns, catering to diverse aesthetic preferences. Whether you seek classic designs or contemporary styles, our assortment has something to suit every taste.

High-Quality Materials: Xishun prioritizes quality above all else. We source premium-grade acrylic materials to craft our marble pattern sheets, ensuring durability, longevity, and resistance to wear and tear. This dedication to quality guarantees products that stand the test of time.

Customization Options: Understanding that each project or client may have unique requirements, we offer customizable solutions. Tailoring dimensions, colors, and patterns to your specifications allows for a personalized touch in your designs.

Competitive Pricing: Our goal is to make superior quality accessible. Xishun offers competitive pricing without compromising on the excellence of our products. We believe in providing value for money with every purchase.
Our Commitment to Service
At Xishun, customer satisfaction is our top priority. Our team is dedicated to providing exceptional service, from assisting in product selection to ensuring timely deliveries. We aim to foster lasting relationships with our clients by consistently delivering on our promises and exceeding expectations.
Experience the Xishun Difference
Choose Xishun as your supplier and experience the seamless blend of quality, affordability, and customization. Our acrylic marble pattern sheets add a touch of elegance and sophistication to any project, whether it's interior design, architectural applications, or creative endeavors.
For all your acrylic marble pattern sheet needs, trust Xishun - your reliable partner in quality and style.